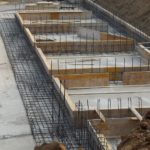 Choosing the right materials for your construction project can have a definite impact on the quality of your finished result. In most cases, your Houston concrete contractor can provide you with expert recommendations on the right formulation for your needs. If you are considering the benefits of steel vs. concrete for your next building project, here are some points to keep in mind when making a final determination about the right materials for your job.
Insurance Costs
Houston ready-mix concrete can be much cheaper to insure than comparable structural steel installations thanks to the added structural support and fire safety these building materials provide for owners, tenants and other stakeholders. Reinforced cast-in-place concrete components offer cost-effective and practical solutions for most building projects that compare favorably with structural steel components in terms of cost.
Material Costs
Almost all structural steel comes from recycled sources. This can significantly reduce the price you pay for steel building components. Precast concrete components can be somewhat more expensive depending on size, transportation costs and configuration. Houston cement mixing services offer a good balance between cost and convenience and can pour concrete on-site to eliminate the need for transport and to streamline the building process.
Flexibility
Concrete can be poured in place at a schedule of your choosing and in the configuration you need for your building project. Steel beams and components, by contrast, must typically be designed in advance and require considerable lead time from the initial design stage to final delivery to your work site. Your schedule and design will determine whether steel, concrete or both materials will suit your needs most effectively.
Sustainability
Because 90 percent of all the structural steel available for use comes from recycled steel, it is relatively sustainable for most building uses. Concrete does have a slight edge over steel, however, because it is composed of gravel and other natural materials. This makes it less likely to cause damage to the environment even if it is crushed or reused over and over again.
Corrosion
Unlike steel components, concrete is not susceptible to corrosion. This alone can make it a better choice for buildings in our area. To combat corrosion, watertight seals are needed to prevent deterioration that could affect the structural integrity of your steel beams.
At Texas Concrete Enterprise Ready Mix Inc., we offer prompt and reliable delivery for your ready-mix concrete needs. We work with you to ensure that your concrete is formulated to your precise specifications and is delivered to your worksite on your schedule. Call us today at 713-227-1122 to get a quote for your project. We look forward to the opportunity to serve you.