Houston Ready Mix Concrete Supply | Products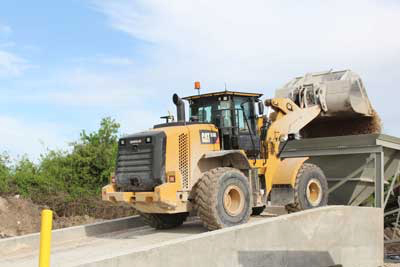 Texas Concrete Ready Mix is an established Houston concrete supply and cement mixing company with a proven record of success in formulating and delivering the right solutions for residential, commercial and infrastructure applications in our area. We maintain a fleet of concrete mixer trucks to serve our customers better. By choosing us for all your concrete products, you can enjoy prompt delivery and the best selection of concrete formulations in the industry.
Best Selection of Houston Ready Mix Concrete Products
Our team of concrete technicians can create customized solutions for your specific set of needs. We use only ASTM-approved aggregate materials that include some or all of the following:
Limestone
Sand
Pea gravel
Crushed concrete (Washout)
River Rock
Retarder
High/Mid Range Water Reducer
Fly Ash
Fibermesh
These aggregate materials are combined with SEMA-approved add mixes and mixed with water to precise specifications. Texas Concrete Ready Mix uses the Alkon Spectrum 6 system to ensure the exact proportions of each element in your concrete formulation. Our Houston cement mixing team can provide you with the expert assistance you need to choose the right product for you.
Mix Types:
These are just a few of the mixes we can provide. Give us a call for more specific mix types for your next project.
3000 psi Ash 1.5" Gravel
3000 psi 1.5" Gravel (5 sack)
3500 psi Ash 1.5" Gravel
3500 psi 1.5" Gravel (5 ½ sack)
4000 psi Ash 1.5" Gravel
4000 psi 1.5" (6 sack)
3/8", 1" and 1 ½ Limestone Also Available
Products Designed to Suit Any Construction Need
As a trusted Houston concrete contractor, Texas Concrete Ready Mix can custom-design and formulate concrete to your specifications. Our proven methodology takes into consideration a number of key factors:
Appearance
Durability
Strength
Permeability
Our experience and expertise in the concrete formulation field can produce the most effective solutions for your building project. By working with you at every phase of your project to determine your priorities and goals, the Texas Concrete Ready Mix team can design the right formulations to suit your needs perfectly.
Top-Quality Products at Affordable Prices
Because we use the latest in concrete formulating and mixing technologies, we can provide you with the best and most affordable solutions for residential, commercial and public projects. Our on-site delivery and professional pouring services are designed to make your job easier and to ensure the highest possible quality for your finished project. We can take on challenges both large and small. At Texas Concrete Ready Mix, we apply the same careful attention to detail to all our projects. From residential driveways to multi-story parking structures and buildings, we have the experience and the know-how you need to enjoy the best results from your concrete installation.
At Texas Concrete Ready Mix, we offer full-service concrete formulation, mixing and delivery to your worksite or home. Our team of concrete experts will work with you to determine the best solution for your needs and to provide you with the most cost-effective solutions in the Houston area. To learn more about the array of products and services provided by Texas Concrete Ready Mix, call us today at 713-227-1122. We look forward to serving all your Houston concrete supply needs.