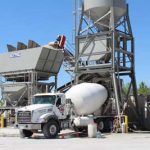 If you are planning a new patio or other project involving concrete, you may be tempted to do it yourself to reduce costs. In most cases, however, working with an experienced Houston concrete contractor can actually save you time, effort and money immediately and over the long run. A single mistake in pouring or mixing concrete can result in an unsightly mess that can cost much more to remedy than the expense of doing it right the first time. Here are some of the most important benefits of hiring a professional to mix and pour concrete for your next project.
The Right Amount of Concrete
Companies that specialize in Houston cement mixing can more accurately estimate the amount of concrete needed to complete your project. This can prevent leftover concrete disposal problems while ensuring that the concrete used to pour your sidewalk, patio or other project is uniform in appearance and mixed to the same specifications from start to finish.
Professional Mixing and Formulation
Improperly mixed concrete can mar the appearance and the longevity of your installation. By working with a company that specializes in creating and pouring these mixes, you can ensure the right formulation for your specific set of needs. Additionally, the mixing equipment available to these companies is usually much more effective than small-scale mixers or hand mixing can be.
Speed and Accuracy
Experienced concrete technicians can work more quickly and more accurately, allowing them to complete your project faster and with a more professional appearance. This can make a significant difference in the beauty of your completed project and could even affect the value of your home in the real estate marketplace. By entrusting your concrete pouring project to a trusted local company, you can enjoy the fastest and most beautiful results possible.
Preparation and Planning
Opting for an established concrete company can also allow you to relax and let the experts plan your project from start to finish. This can help you avoid the expense of purchasing forms and leveling out the ground where your concrete will be placed. By working with these experienced professionals, you can enjoy greater peace of mind throughout the process.
As a leading Houston concrete supply company, TEXAN Concrete Ready Mix can provide you with the best solutions for commercial and residential projects. Our highly trained technicians can mix and pour the perfect concrete formulation for every need. Call us today at 713-227-1122 to discuss your upcoming project with us. We are ready to create the concrete mix you need to achieve your construction goals.
Save