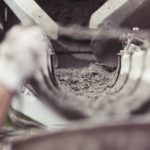 The strength and durability of your concrete depends in large part on the mix used to create it. The wrong mix can result in an unattractive appearance and premature deterioration for the finished project. Working with an experienced Houston concrete contractor can ensure that your concrete mix is durable and appropriate to your needs. Here are some of the primary factors that go into the perfect concrete mix for your project.
The Right Materials Are Essential
Concrete consists of four basic components:
Water is used to activate other ingredients and to allow concrete to be mixed and poured.
Portland cement is a strong adhesive mixture that, when combined with water, serves as a binding agent for the other components of concrete.
Sand is used to provide a consistent texture and character for concrete mixtures.
Aggregate typically consists of larger pieces of rock, stone and other materials that provide added strength to concrete. Sand is sometimes classified as an aggregate, especially in specialty mixtures.
This formulation may appear simple. The proportions and quality of these ingredients, however, can have a significant impact on the end result.
Quality Materials
Companies that specialize in Houston ready mix concrete supply services use a variety of add mixes and aggregate materials to create their formulations. ASTM International creates voluntary standards that apply to aggregates. Choosing a concrete contracting company that uses ASTM-approved aggregate materials can ensure the best possible results for your project. SEMA-approved add mixes are also recommended for concrete installations. These materials can provide superior durability and performance in a wide range of applications.
The Importance of Proper Mix Ratios
Measuring the exact proportions of the four main components of concrete plus any add mixes needed can be challenging even for individuals with extensive do-it-yourself experience. In most cases, consulting with a professional contractor can ensure the most appropriate formulations and the most accurate Houston cement mixing for your construction projects. This can translate directly into greater longevity for your concrete installations. Making sure that your concrete has the right ratio of water to cement to aggregate and sand can be a vital part of your overall construction plan.
At TEXAN Concrete Ready Mix, we specialize in creating customized concrete formulations designed to suit the needs of our clients. We use only SEMA-approved add mixes and ASTM-approved aggregates to ensure the highest quality and the longest life for the concrete we mix. Call us today at 713-227-1122 to discuss your upcoming project and to arrange for concrete delivery to your worksite. Our experienced and highly skilled technicians will be happy to serve all your concrete formulation needs.
Save
Save