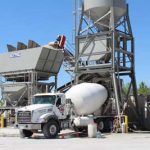 Cracks or damage to your concrete sidewalks or driveways at your business or home can be unsightly and could even pose a safety risk to you, your clients, family or guests. By consulting with a qualified Houston concrete contractor to determine the extent of the damage, you can make a more informed decision about repairing the cracks or replacing the entire installation. Here are some helpful hints to consider when choosing between repair or replacement for your concrete driveways and sidewalks.
Common Problems with Concrete Installations
Determining the basic cause for the damage to your concrete can help you determine which approach will work best in your situation:
Over time, almost any concrete installation can deteriorate and crumble. If your concrete is already showing signs of damage within a few months or years of installation, however, it could be a sign that the wrong formulation was used. This may necessitate a full replacement for your garage floor, driveway or sidewalk concrete.
If the ground supporting the concrete has subsided over time, it is usually necessary to remove the existing concrete to restore the subgrade to an even and usable condition. Enlisting the help of an established Houston concrete supply company can provide you with added help in demolishing the existing concrete, replacing and leveling the subgrade and installing new concrete for your drives and sidewalks.
Smaller cracks can sometimes be repaired or resurfaced, especially if the cracks do not extend all the way through to the subgrade of the concrete installation. These cracks may occur due to settling of the subgrade, extremes of heat or cold or shifts in the tectonic support structures underlying your property. Larger cracks, however, may require replacement to ensure the best results.
Your Houston ready mix concrete professionals can provide you with an accurate assessment of the current condition of your sidewalk, driveway or other installation. This can allow you to make the most appropriate choice between replacement or repair of your concrete.
Don't Go It Alone
The right concrete formulation can make a real difference in the quality and longevity of your residential or commercial installation. Working with an established company with proven experience in the Houston ready mix concrete field can ensure the most attractive and durable results for all your renovation and restoration projects.
At Texas Concrete Enterprise Ready Mix Inc., we specialize in providing the Houston concrete supply services our customers need for sidewalks, driveways, patios, parking lots, foundations and many other installations. To learn more about our lineup of products and services or to get a quote from our skilled concrete technicians, give us a call today at 713-227-1122. At TEXAN Concrete Ready Mix, we look forward to providing all of your concrete requirements.