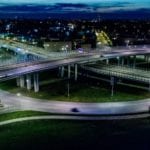 Concrete is one of the most versatile and practical building materials in the construction industry. Changes in the formulations used to create concrete can have a major impact on the applications for which it can be used. Your Houston concrete contractor can provide you with information on the latest advances in concrete additives and the ways these technologies are changing the way we build roads, highways and buildings. Light-emitting or phosphorescent concrete could be the next big step forward in these paving technologies.
Lighting Up the Night
Concrete streets, highways and bike paths require plenty of light to ensure safety for motorists and pedestrians. New technological breakthroughs have made it possible to create concrete formulations that glow from within, generating plenty of light for clearer visibility. By creating a new formulation for concrete that allows sunlight to pass through, it is possible to store the lighting power of the sun for release during the evening and night.
Overcoming the Challenges
One of the most difficult hurdles on the path to phosphorescent or light-emitting concrete is the structural configuration of most cement formulations. Researchers looked for ways to change the crystal structure of cement to transform it from an opaque material to one that can allow light to pass through. The concrete that will eventually be provided by a Houston concrete contractor to light up streets and highways will have been altered to remove the crystal flakes that normally form in cement, allowing greater passthrough for the suns light rays during the daylight hours.
Planning for the Future
Light-emitting concrete is not quite ready for prime time. Some adjustments still need to be made before your Houston concrete supply company can deliver this advanced material for driveways, sidewalks and streets in our area. It is possible that the light generated by these formulations may not be bright enough to replace electrical lights. Additionally, light-emitting concrete requires plenty of sunlight during the day to produce bright and usable light at night. While phosphorescent concrete may not be a viable replacement for electric lighting at the present time, it could potentially provide improved visibility and a more beautiful way to pave streets, highways and pathways in our area and around the world.
As a leading Houston ready mix contractor, Texas Concrete Enterprise Ready Mix Inc. can provide you with the most advanced and practical solutions for commercial and residential projects. We maintain a fleet of more than 25 mixers, allowing us to provide you with faster response times for your construction requirements. Our technicians can formulate and mix concrete to suit your specific requirements. Call us today at 713-227-1122 to request a quote and to discuss your upcoming project with our Houston concrete contractor experts. We look forward to the opportunity to serve you.