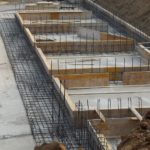 Pouring your building's foundation is the essential first step for most construction projects. Your Houston concrete contractor can provide you with expert guidance on the right configuration and formulation for your foundation. Understanding the options and types of foundation available to you can be a real help in making the right choices for your new construction in our area. Here are some points to consider when selecting the right foundation for your project.
Location Matters
The type of foundation you choose will depend in large part on the geological conditions present in the location of your construction project. Flood zones and water table levels are among the most important factors in selecting the right foundation for your project. Your Houston concrete supply company can often provide you with expert recommendations on the right foundation for your specific location.
Types of Foundations
A number of different types of foundations are available for building projects in Houston and the surrounding areas. Some of the most popular of these configurations include the following:
Slab-on-grade foundations are poured directly on the surface of the ground. This allows them to provide superior support for most structures. In some cases, however, these foundation types could be more vulnerable to flooding, making them less suited for certain areas.
Basement foundations are designed to provide added space for mechanical systems and storage in commercial buildings and typically feature walls of eight feet or more in height. These foundations are not suited for areas with high water tables or locations that are prone to seasonal flooding.
Crawlspace foundations are raised to about three feet over the ground, allowing access for wiring and other mechanical systems.
T-shaped and frost-protected foundation structures are rarely used in our area and are designed to provide added protection against sub-surface ice and frost in colder climates.
Rustproof stainless-steel rods are often used to reinforce concrete foundations and to provide greater structural strength. Concrete is usually the most important component of foundation systems and may be reinforced with concrete blocks to provide even more protection for exposed surfaces. Weatherproofing coatings and materials may also be used to prevent moisture from causing damage to concrete footings and slabs. Rubber, asphalt and other chemical compounds may be used to prevent water from infiltrating foundations in and around the Houston area.
At TEXAN Concrete Ready Mix, we offer the most comprehensive Houston ready mix concrete services for residential and commercial applications. Our skilled concrete technicians can create a formulation just right for your needs. Give us a call today at 713-227-1122 to discuss your project with us. We look forward to the chance to work with you.