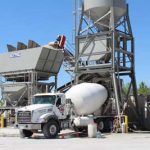 For most of us, ready-mix concrete can be ordered with a single call to your Houston concrete contractor. Understanding the history of concrete can provide you with an added appreciation for the versatility and practical uses of this construction material. Here are some key facts you should know about cement and ready-mix concrete formulations.
The History of Ready-Mix Concrete
The concept of cement was well-known among ancient civilizations. The formulations used today, however, bear almost no resemblance to the compounds used by Babylonian, Greek or Roman engineers to bind stones and other building materials together. Portland cement was developed in the 1800s in England. This new compound made it easy and practical to create concrete formulas suitable for bearing loads and building large-scale structures. In the early 1900s, ready-mix concrete was often delivered by horse-drawn mixers that used large paddles to turn the concrete and prevent it from setting on the way to its destination. It was not until the 1940s that the familiar motorized trucks with mixing drums became the standard for mixing and delivering ready-mix concrete in the United States.
Uses for Ready-Mix Concrete
The Houston ready-mix concrete used today is usually a combination of aggregate, Portland cement, water and other additives. These formulations can be adjusted for use in pouring foundations, building skyscrapers, constructing bridges and creating multi-story buildings. Concrete can also be used in residential projects to install or replace driveways, sidewalks, steps and flooring. The versatility of concrete is unmatched in the construction industry.
Advantages of Ready-Mix Concrete
Ready-mix concrete can streamline some aspects of your construction process and offers significant benefits for your building project:
In many cases, opting for ready-mix concrete can provide significant cost savings over other materials.
Ready-mix concrete deliveries can be timed to suit your schedule, allowing you to reduce downtime on your construction site and to manage labor costs for your project.
Working with an experienced ready-mix company can ensure that your formulation is precisely right for your needs.
By outsourcing your concrete needs to a ready-mix company, you can eliminate the problem of waste and disposal of excess concrete products.
These benefits make ready-mix a practical choice for your next construction project.
At Texas Concrete Enterprise Ready Mix Inc., we are an established Houston concrete supply company with a proven reputation for quality formulations and prompt, courteous service. We have the experience and the expertise needed to ensure that your ready-mix concrete arrives on time and is perfectly suited to your commercial or residential construction needs. If you need guidance or recommendations on the right formulation for your concrete, we can help you determine the right mix for your job. Call us today at 713-227-1122 to get a quote from us. We look forward to the opportunity to serve you.